Testimonials
Share your thoughts on all of our affiliate Reputation / Testimonial sites or read what others are saying…
We give you our thanks for your willingness to go the extra mile (miles) when needed or requested. Your cooperation and positive attitude along with that of Miguel, Otoniel and your entire crew made the large and intricate job as painless as possible for us. George Thoresen
Hello Weston,
Just a quick note to share that we couldn't be happier with the deck and the quality of installation. Thank you for all your help.
Best Regards,
John Dever
Dear Weston,
I am writing to you in regards to the recent re finishing of our deck in Petaluma. You came out to our house last November for an evaluation.  You recommended Carlos to do the job. All of our dealings with Carlos and his wife were very professional. They were always on time, kept everything neat and clean and did a beautiful job of refinishing our deck. Devery and I couldn't be happier with the results. We have had nothing but compliments from our friends and have recommended your company to several. Be sure to pass along our gratitude to Carlos and his crew for a job well done.
RJ
We couldn't be happier with the fantastic job Deckmaster Fine Decks performed on our trellis, deck and fence. The wood was very dirty and neglected and really brought the look of the house down. Now they are clean and beautifully stained becoming a highlight of our home. The crew was professional and meticulous in their work and a real pleasure to work with. I would highly recommend Deckmaster and plan on having them maintain our woodwork on a regular basis. Tom and Jane B.
Thanks Weston, for fulfilling your reputation of making beautiful decks! And for accommodating those details that made you the best choice for building our deck! Nick M.
Hi Weston,
Wanted you to know that we are very impressed with your crew, Miguel, Bobby and David.  They are very professional with us and each other, hardworking and considerate.  We especially appreciate the good workmanship and attention to detail.
Susan G.
We like the wonderful look and the fact that it blends in so well with our home. The quality of the work is beautiful.
Charles & Linda
We wanted a builder who could construct a deck, stairs and a bench so that it would look like finely crafted furniture. Deckmaster expertise with the hidden faster system as well as synthetic decking has provided us with a beautiful, low maintenance and very strong deck as well as a fabulous fence!
San Francisco Client
We knew when we contacted Weston that our project would be challenging. We had a three-level deck built on a hill in various stages over many years. We had seen his website and knew that we wanted to go with a "high-five" railing which would preserve the views and was less costly than other cable rails. The craftsmanship was absolutely wonderful
David T.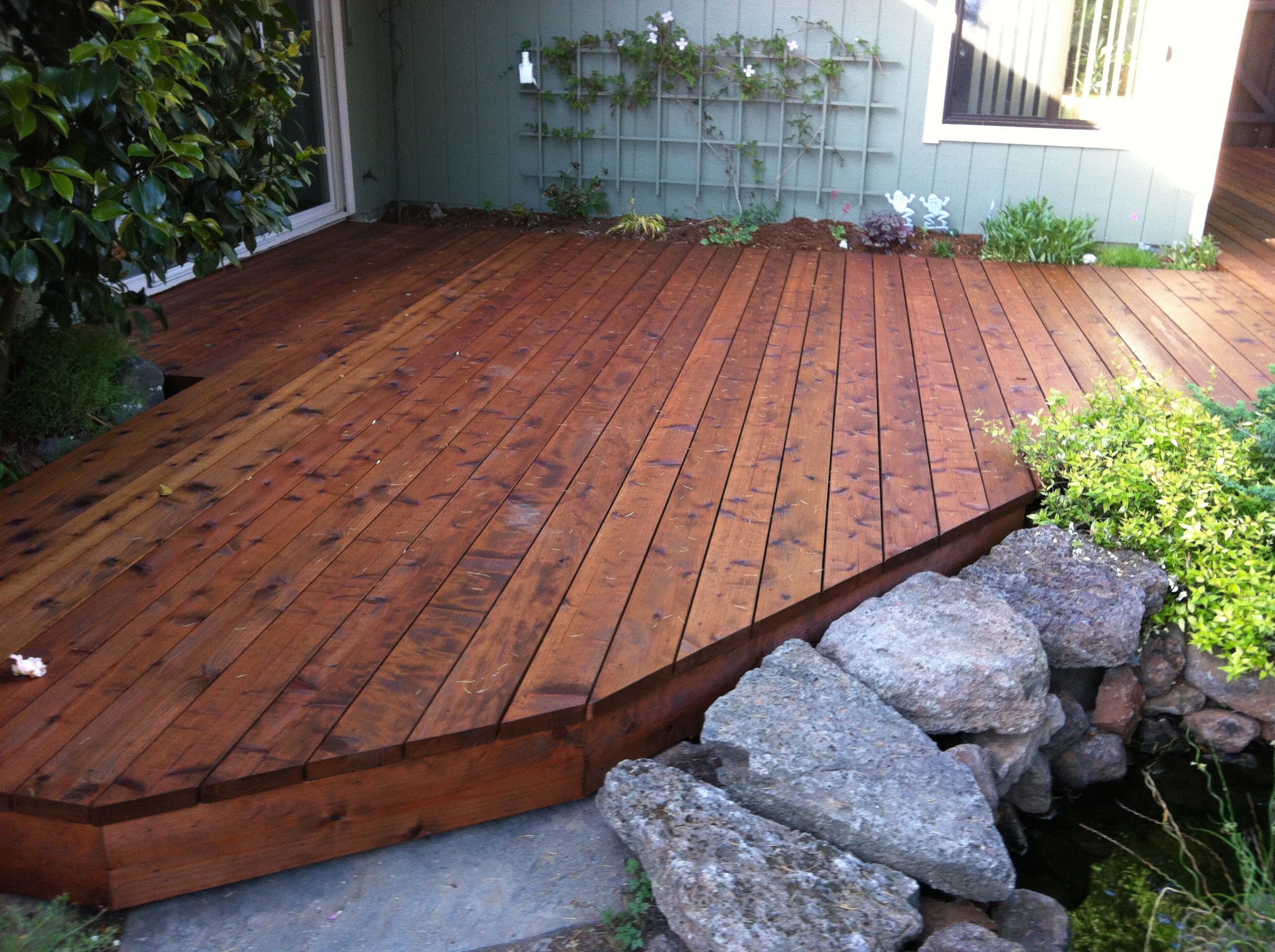 He built it as if it was for his own home. I am just in love with this deck. It is flawless. Even guys that do decks comment as to how nice it is. I am happy as heck
Terry F
Thank you for building the beautiful deck that you have left us with. It's exactly what my wife was thinking of and already we're enjoying it! At Easter, it will be broken in with a big party.
James & Neila S.
They offer quality work and you're paying for the best quality of construction. I just liked the comfort of knowing that I was dealing with experts. They definitely know their trade. They superseded my expectations.
Meaghan H.
They have fine carpentry skills, the ability to follow a plan, and they can improvise around various problems. They have a good knowledge of how to use different materials, as well as knowledge of the woods, including synthetic wood. They came in on quote, they executed exceptionally well, and they went above and beyond our expectations. They also have health care coverage for their employees. I did not want to hire anyone that did not treat their employees well, so that was one of the things that I asked about prior to hiring them.
Andy K.